There is a commonly reproduced symbol which many believe holds the secret to personal fulfilment and business success. The psychologist Abraham Maslow's theory of human motivation is 70 years old but continues to have a strong influence on the world of small business.
 In 1943, the US psychologist Abraham Maslow published a paper called A Theory of Human Motivation, in which he said that people had five sets of needs, which come in a particular order. As each level of needs is satisfied, the desire to fulfil the next set kicks in.
First, we have the basic needs for bodily functioning: fulfilled by eating, drinking and going to the toilet. Maslow also included sexual needs in this group.
Then there is the desire to be safe, and secure in the knowledge that those basic needs will be fulfilled in the future too. After that comes our need for love, friendship and company. At this stage, Maslow writes, the individual "may even forget that once, when he was hungry, he sneered at love".
The next stage is all about social recognition, status and respect. And the final stage, represented in the graphic as the topmost tip of the triangle, Maslow labelled with the psychologists' term "self-actualisation".
It's about fulfilment: doing the thing that you were put on the planet to do. "A musician must make music, an artist must paint, a poet must write, if he is to be ultimately happy," wrote Maslow. "What a man can be, he must be."
While there were no pyramids or triangles in the original paper, Maslow's hierarchy of needs is now usually illustrated with the symbol. And although the paper was written as pure psychology it has found its main application in management theory.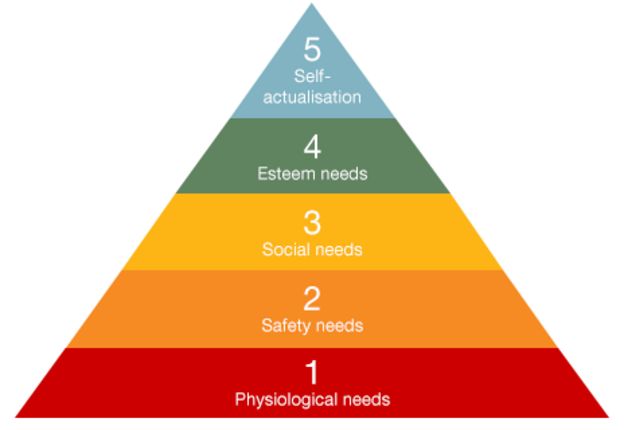 Managers use Maslow's hierarchy to identify the needs of their staff and help them feel fulfilled, whether it's by giving them a pet project, a fancy job title or flexible working arrangements, so they can pursue their interests outside the workplace.
In the second half of the 20th Century, bosses began to realise that employees' hopes, feelings and needs had an impact on performance. In 1960, Douglas McGregor published The Human Side of Enterprise, which contrasted traditional managerial styles with a people-centred approach inspired by Maslow. It became a best-seller. Some managers began to move away from a purely "transactional" contract with a company's staff, in which they received money in exchange for doing a job, to a complex "relational" one, where a company offered opportunities for an individual to feel fulfilled, but expected more in return.
Muddying things slightly, Maslow said that for some people, needs may appear in a different order or be absent altogether. Moreover, people felt a mix of needs from different levels at any one time, but they varied in degree.
There is a further problem with Maslow's work. Margie Lachman, a psychologist who works in the same office as Maslow at his old university, Brandeis in Massachusetts, admits that her predecessor offered no empirical evidence for his theory. "He wanted to have a grand theory, the grand ideas and he wanted someone else to put it to the hardcore scientific test," she says. "It never quite materialised."
However, after Maslow's death in 1970, researchers did undertake a more detailed investigation, with attitude-based surveys and field studies testing out the Hierarchy of Needs.
In 1972, Clayton Alderfer whittled Maslow's five groups of needs down to three, labelled Existence, Relatedness and Growth. Although elements of a hierarchy remain, "ERG theory" held that human beings need to be satisfied in all three areas, if that's not possible then their energies are redoubled in a lower category. So for example, if it is impossible to get a promotion, an employee might talk more to colleagues and get more out of the social side of work.
More sophisticated theories followed. Maslow's triangle was chopped up, flipped on its head and pulled apart into flow diagrams. Hodgkinson says that one business textbook has just been published which doesn't mention Maslow, and there is a campaign afoot to have him removed from the next editions of others.
The absence of solid evidence has tarnished Maslow's status within psychology too. But as a result, Lachman says, people miss seeing that he was responsible for a major shift of focus within the discipline.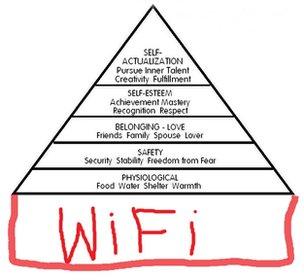 Unlike the psychoanalysts and behaviourists who preceded him, Maslow was not that interested in mental illness, instead of finding out what went wrong with people, he wanted to find out what could go right with them. This opened the door for later movements such as humanistic psychology and positive psychology, and the "happiness agenda" that preoccupies the current UK government.
Maslow's friend, management guru Warren Bennis, believes the quality underlying all Maslow's thinking was his striking optimism about human nature and society. He says. "All of his psychology really had to do with possibility, not restraints. His metaphysics were all about the possibilities of change, the possibilities of the human being to really fit into the democratic mode."
Photo Courtsey: Photos of Maslow courtesy of the Robert D. Farber University Archives & Special Collections, Brandeis University.